763 Route 524, Allentown NJ 08501
|
Phone: (609) 259 7265 Fax: (609) 259 7267
For more than 50 years, Riephoff Sawmill has been a family owned business supplying the greater North East with top quality lumber products for the industrial, construction and manufacturing industries. Our company prides itself on providing our customers with knowledgeable and personal service.
We provide a wide variety of custom sawn items which include: crane mats, transition mats, blocking, shoring, wedges, chocks, outrigger pads, oak planking for trailers, truck side boards and custom ramps. For the landscaping industry, we produce tree stakes and mulch. We also carry oak fence boards, treated fence posts and sawdust for horse bedding.
We buy standing timber of all species.
Directions
Located in Central New Jersey, Riephoff Sawmill is easily accessible to all major highways. Use the link below to find directions from your location.
Find the Fastest Way Here

Hours of Operation
Monday - Friday: 7:00am-3:30pm
Saturday: 7:00am-Noon
Delivery available upon request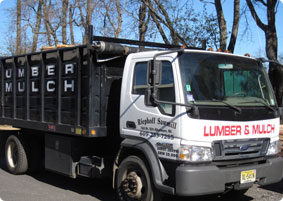 | | | | |
| --- | --- | --- | --- |
| Hardwood Mats | Hardwood Stakes | Chocks & Wedges | Trailer & Truck Decking and Sideboards |
| Outrigger Pads | Timber Frame & Hand-Hewn Beams | Fencing and Posts | Hardwood Shoring, Blocking & Ramps |
| Sawdust | Clean Mulch | Logs & Lumber | Custom Sawing |