Overview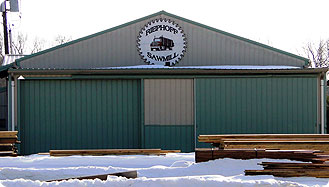 Riephoff Sawmill, located in Allentown, NJ, is a hardwood mill specializing in custom sawing. We are the largest sawmill in New Jersey and for over 50 years, we have been servicing clients throughout the Northeast and Canada.
Our mill is housed in a 15,000 sq ft building. This building includes the 56" circular saw & 20' Frick carriage, log deck, planer, edger, Holtec, stake pointer and spacious work area to assemble crane mats. Our seven acre log yard is used for scaling and storing the logs which are separated by size and variety. Adjacent to the log yard is the mulch area where the mill waste is put through the Beast grinder and stored on a blacktop surface.
We are a third generation, family owned business since 1964 and we take pride in our outstanding products and service. Contact us for all your custom lumber needs.
• Why Us


We are the largest Sawmill in New Jersey and centrally located.

• Delivery


Available upon request.
Sawmill Images
---

Map the location