Trailer & Truck Decking and Sideboards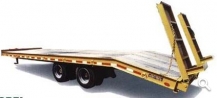 Our sawmill facility manufactures truck sideboards, trailer floor decking and stringers to your exact specifications.  Our rough sawn planks are surfaced on one side for uniform thickness.  You must specify this option when you are requesting a quote or placing your order.
For strength and durability, we recommend oak for decking on equipment trailers.  Call, fax or e-mail us your trailer dimensions.  Make sure to include any special requirements, like the location of the metal ribbing.  It is usually a good idea to fax or email us a drawing of your trailer with the location of the metal and the measurements to ensure that the planks are cut correctly.
Product Images